Will Juliette be queen of the turf on Sunday? - by Shailendra Awasthi | TOI
Posted on - 30 Jan 2020
Will Juliette be queen of the turf on Sunday?
by Shailendra Awasthi | TOI
Mumbai:
Many who saw Juliette making a mockery of her 10 rivals in the Indian Oaks felt they had already spotted the Indian Derby winner. The amazing turn of foot and the smart timing clocked by the filly in the Oaks made Juliette the strongest contender for the biggest race of the Indian racing calendar, the Indian Derby, scheduled to be run at 5.30 pm at the picturesque Mahalaxmi Racecourse on Sunday.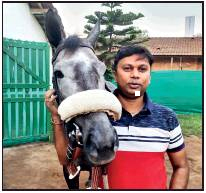 However, her trainer Karthik Ganapathy believes that the filly has a fight on her hands. The trainer is cautiously optimistic and understandably so because the Derby lineup is a formidable one comprising several regional Derby winners from all over India.
"The unbeaten War Hammer from Bangalore is one of the biggest threats. Then we have Trouvaille, Victorious Sermon and the other Derby winners are quite competitive," says Karthik who is the son of well-known trainer S Ganapathy. Karthik's younger brother Arvind G is also a trainer.
Juliette is the daughter of Musketier and she is the first black type winner for her sire. The stout staying pedigree of the filly was what prompted Karthik and MAM Trust adviser Dr Karthikeyan to buy her. "Sultan Singh (Sohna Stud Farm owner), who bred her, had told us that either she will be a champion or a slow horse because she is from a family of stayers. Luckily, she turned out to be good," informed the 40-year-old.
Though Juliette was shaping up as a good type of youngster during her formative years, her performance in her first outing in December 2018 was disappointing, says Karthik. "We were expecting her to be among the first three, but she finished eighth. I was left wondering whether my faith in her was misplaced. However, when she returned to work in five days' time, she had shown that she had benefitted from the race run and gave immense hopes,'' recalled the trainer who has won two Indian Oaks and a few classic races at other centres.
A little under two months later, Juliette returned to racing and hammered Victorious Sermon to win the NM Irani Trophy. "Then we realised that she was capable of making it big," Karthik said.
Within 12 days from that effort, Juliette returned to finish fourth in the Poonawalla Breeders Multi-Million. The Indian Oaks victory has indeed placed Juliette right there among the best.
Please Comment Below