Dear Owners and Trainers,

The Royal Western India Turf Club is pleased to announce that the 2022/2023 Mumbai Racing Season commences on Sunday, 20th November 2022 with the highest stakes in the country, with almost no restrictions on outstation contenders, in an effort to encourage participation from other Turf Authorities.

We look forward to sharing the prospectus, which is being finalized.

The Mumbai Season will be held over 22 racing days, out of which 11 days would be Racing under lights with a total of five Group 1 Races.

Details of Group 2 & 3 races and other sponsored races will be communicated to you shortly.

All Races in Class 1 and for Juveniles will have prize money of a million or more.
Details of Stakes: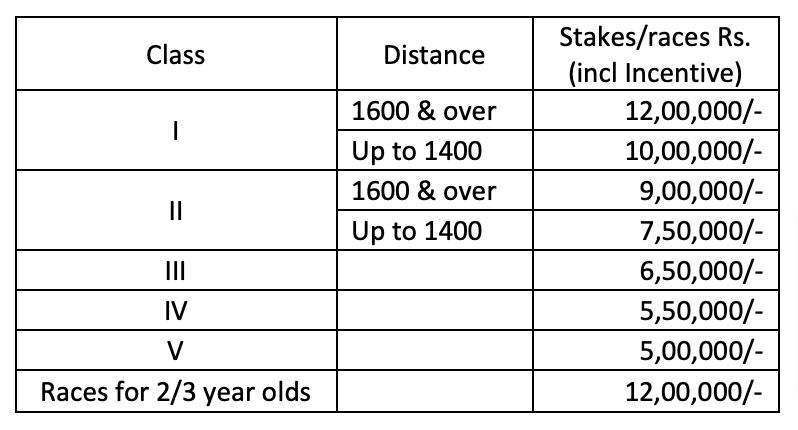 Minimum Guaranteed Stakes for Graded Races :

Grade 1 - Guaranteed Rs.5 Million
Grade 2 - Guaranteed Rs.2 Million
Grade 3 - Guaranteed Rs.1.5 Million
In addition to the above there are the following additional incentives for Outstation horses:
1) Waiver of Arrival charges.
2) No minimum number of races to be run.
3) No age restrictions.
4) Permitted to participate in all races, except races in class IV & V, which are run less than 1600 metres
5) No restriction on the number of horses brought by an outstation trainer.
6) All visiting trainers to have permanent stables in Mumbai.

All interested should contact the stipendiary stewards on stipes@rwitc.com

Warm Regards,

Anit Casyab
DGM Marketing
ROYAL WESTERN INDIA TURF CLUB, LTD.