Dream debut for Deepesh Narredu as youngest trainer - By Usman Rangeela | Mirror
Posted on - 02 Aug 2018
Dream debut for Deepesh Narredu as youngest trainer
By - Usman Rangeela | Mirror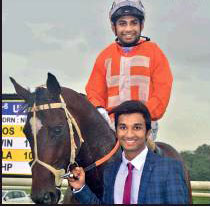 In horse-racing, the occasions when race-goers willingly cheer any achievement on the racetrack are few and far between. One such rare incident was witnessed last Friday when Deepesh Narredu made a dream debut as a professional horse-trainer and led in debutant Awesome One, who won the Scarlet Emperor Plate.
As soon as Awesome One cruised past the winning post, the public rushed to the sidelines of the race-track to get a glimpse of Deepesh. They cheered the winning connections lustily as Deepesh escorted Awesome One to the winner's enclosure.
Malesh Narredu's unassuming son, who turns 25 this month, is probably the youngest trainer to saddle a winner on his very first assignment. It took a while for Deepesh to realise the significance of his achievement but the joy he experienced for those few minutes will remain etched in his memory for life.
OBVIOUS CHOICE
Deepesh belongs to the wellknown Narredu clan and given his pedigree, it was but natural for Deepesh to select a profession which has given name and fame to all his family members.
Deepesh's visits to the racecourse were limited to being with his father but he didn't realise that soon he too would be enticed by horseracing's thrill and glamour. Actually he had planned to go abroad for higher studies but changed his mind after falling in love with the magnificent equines.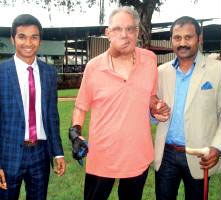 He started observing his father from close quarters at the stables and during morning trials for over a year and half, before deciding to take a plunge in this profession. After obtaining an assistant trainer's license from the Royal Western India Turf Club he spent three years learning the ropes of the trade from Malesh.
Once he was confident of venturing out on his own in this field of cut-throat competition, Deepesh sought permission from his father to apply for a trainer's license. Malesh was positive that his son had earned his stripes and happily acceded to his request.
Deepesh got a professional trainer's license on the first day of the current Pune season and made his presence felt exactly a week later.
CAUTIOUS START
Not only is Deepesh blessed to have a patient mentor in Malesh, he also has the good fortune of having encouraging owners like Diwan Arun Nanda in his yard. Despite niggling health issues, Nanda made it a point to grace the occasion and applaud his newest trainer's feat at Pune.
Malesh, who was made proud by Yash Narredu few years back, experienced the same ecstatic feeling when praise was being showered on his eldest son.
The young lad is aware of the hard toil his trade demands hence he makes a cautious start with a small string of fifteen horses. However, he also takes comfort from the fact that, apart from his father, he has his uncle Satish and cousins Rajesh and Suraj to fall back upon if needed.
When asked to reveal one piece of advice from his father that he will never forget, Deepesh replied, "Dad told me that whether you win or lose, make sure you return for work on the track next morning."
Mirror wishes Deepesh best of luck in his quest for an illustrious career.